Japan's Illegal Ivory Exports
Whole ivory tusk seized by Changchun customs in August 2018.
1
Japan's legal domestic ivory market is contributing to the illegal international ivory trade problem. While other nations and jurisdictions are closing their domestic ivory markets, Japan's ivory market remains legal. This open ivory marked is allowing ivory to be purchased legally within Japan's borders and then illegally exported. Illegal Japanese ivory exports undermine bans on domestic ivory trade enacted in importing countries and violate the international ivory trade ban implemented under the Convention on International Trade in Endangered Species of Wild Fauna and Flora (CITES).
EIA has been documenting illegal exports of ivory from Japan from publicly available sources, with a particular focus on China. Since 2009, more than 5.4 metric tons of ivory have been illegally exported from Japan to China, primarily in small packages.** The vast majority of seizures of ivory exported from Japan to China have been made by Chinese authorities.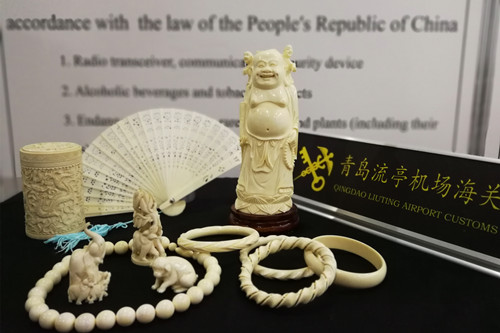 11 ivory items seized from Chinese passenger arriving from Tokyo.
2
EIA has documented 72 seizures of Japanese ivory made in China since 2018, when China's ivory ban went into effect. While these seizures are typically small amounts of ivory, they have been continuous and increasing and are likely a significant underestimate of the actual level of illegal trade. In some cases, Chinese ivory traders have relied on Japan's legal market, online trade platforms, and lax export controls to supply their ivory inventory for re-sale to customers throughout China. Products seized include statues and carvings, jewelry, hanko name seal blanks, painting shaft heads, and whole tusks.
| Year | Number of Seizures | Location |
| --- | --- | --- |
| 2018 | 7 | 6 China, 1 Taiwan |
| 2019 | 53 | 50 China, 2 Vietnam, 1 Japan |
| 2020 (as of December 2020) | 16 | 16 China |
| Total | 76 | 72 China, 2 Vietnam, 1 Taiwan, 1 Japan |
**Data available upon request.
Ivory scroll paintings seized in mail from Japan.
3
These seizures of legally purchased ivory in Japan make it clear that Japan's domestic ivory market poses a threat to international efforts to combat poaching and the illegal ivory trade, particularly as others close their own domestic trades and markets shift.
1China Customs. 2018. 长春海关:首次在邮递渠道查获整根象牙 [China Customs]
2Sina News. (2019). 青岛流亭机场海关查获非法携带入境象牙制品800余克.